MOMS Orange County Encourages Dads to Help with Baby #AwareMomsOC
For the last 24 years Moms Orange County has been helping underserved moms in Orange County have healthy babies.  The Santa Ana-based organization serves 3,500 mothers a year and the proficient staff of 30 make 19,500 in-home visits  a year to expecting women and new moms throughout Orange County.
"We build our programs around what our mothers have told us they need and one thing we heard from them is they wanted the dads to be more involved," said Pam Pimentel, CEO of MOMS Orange County. Out of this need the Workshop for Fathers was born.
At Moms Orange County they believe that if they can help the father understand and embrace the role of being an active, supportive and loving father, then they are changing the world one family at a time. Five hundred fathers have  graduated from the workshop since it began and they have their eye on expanding its reach. The workshops are offered only in Spanish at this time, but they are looking to add classes in Vietnamese and Farsi.
Focus on the dad
Research has shown that the things we knew instinctively and intuitively are true. One of the best predictors of if a pregnancy has a healthy outcome is whether or not the father is involved. Though the focus is helping moms at MOMS Orange County about fourteen years ago they began offering Workshops for fathers on Saturday mornings or Tuesday nights.
The workshops include expecting dads who are joined by "veteran" dads who help and assist the new dads.
What happens in the Workshop for Fathers
– The dads talk about what to expect during pregnancy and after the baby comes.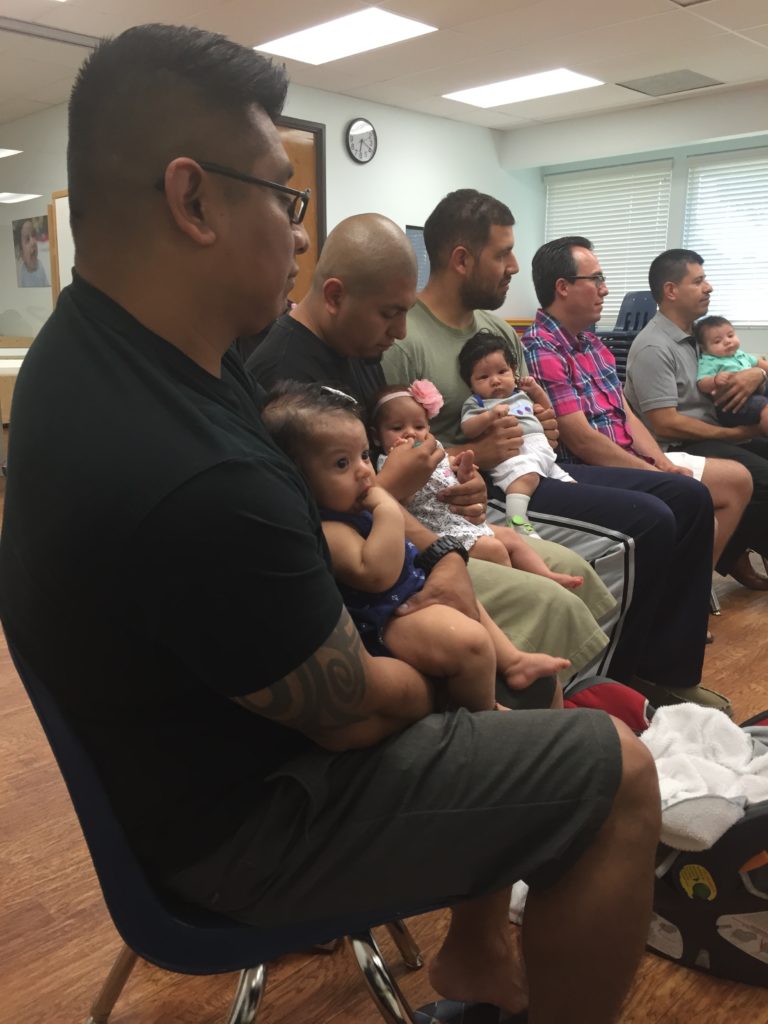 – They learn how to diaper a baby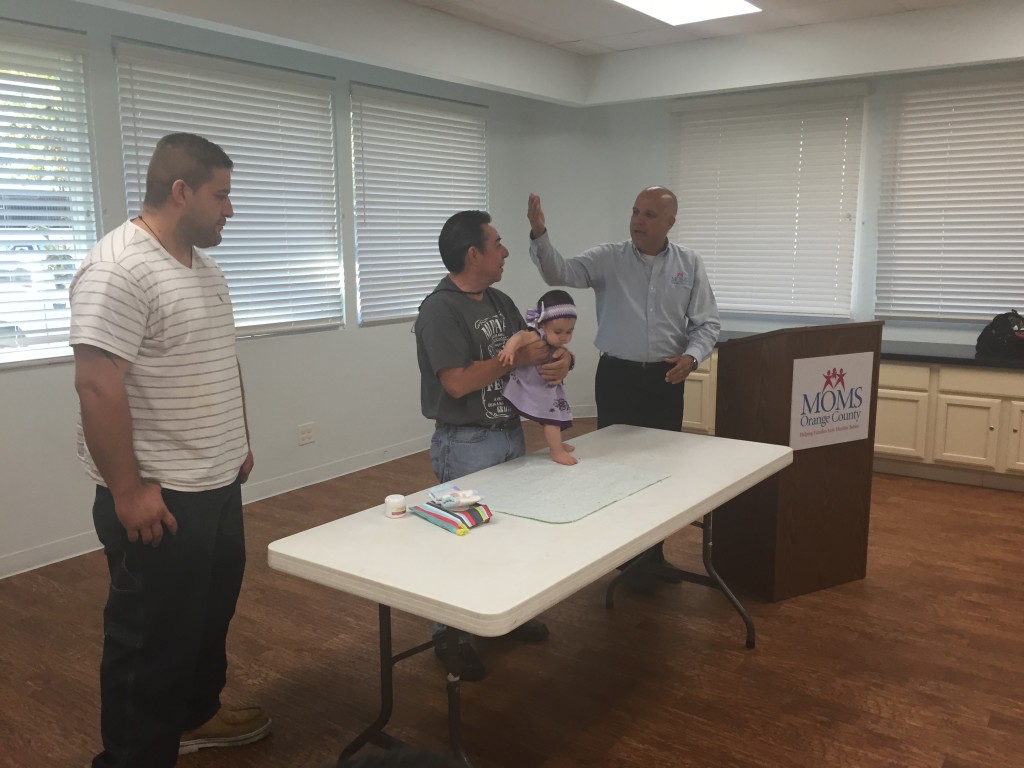 – They practice giving baby a bath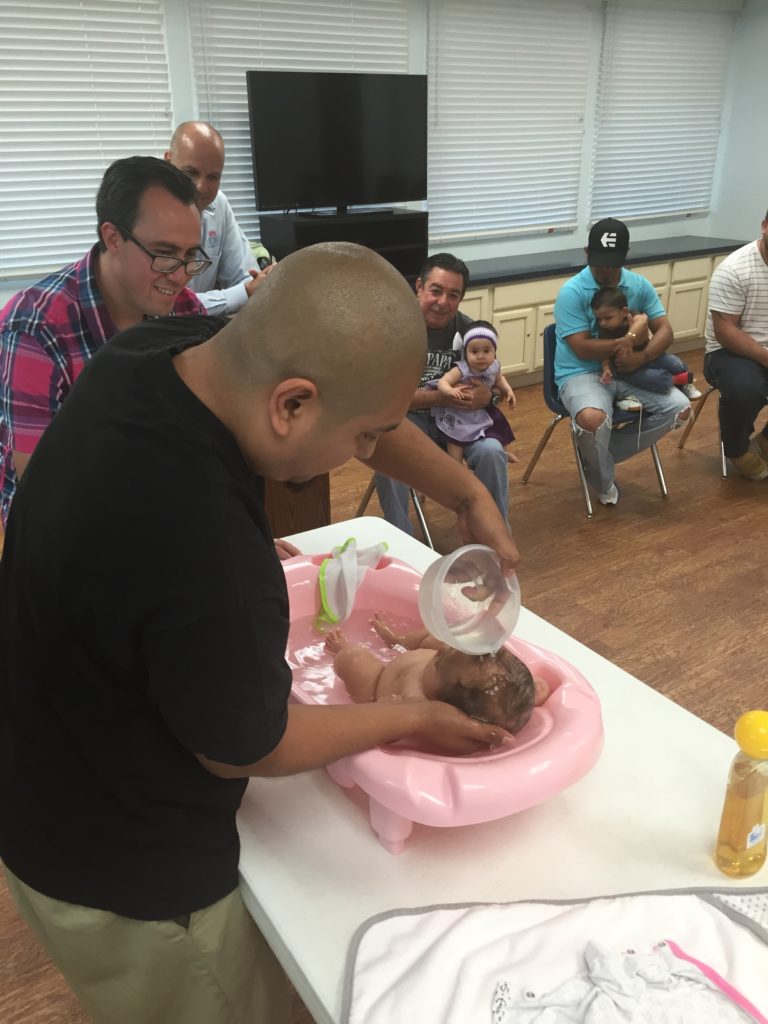 – They learn about the dangers of shaking a baby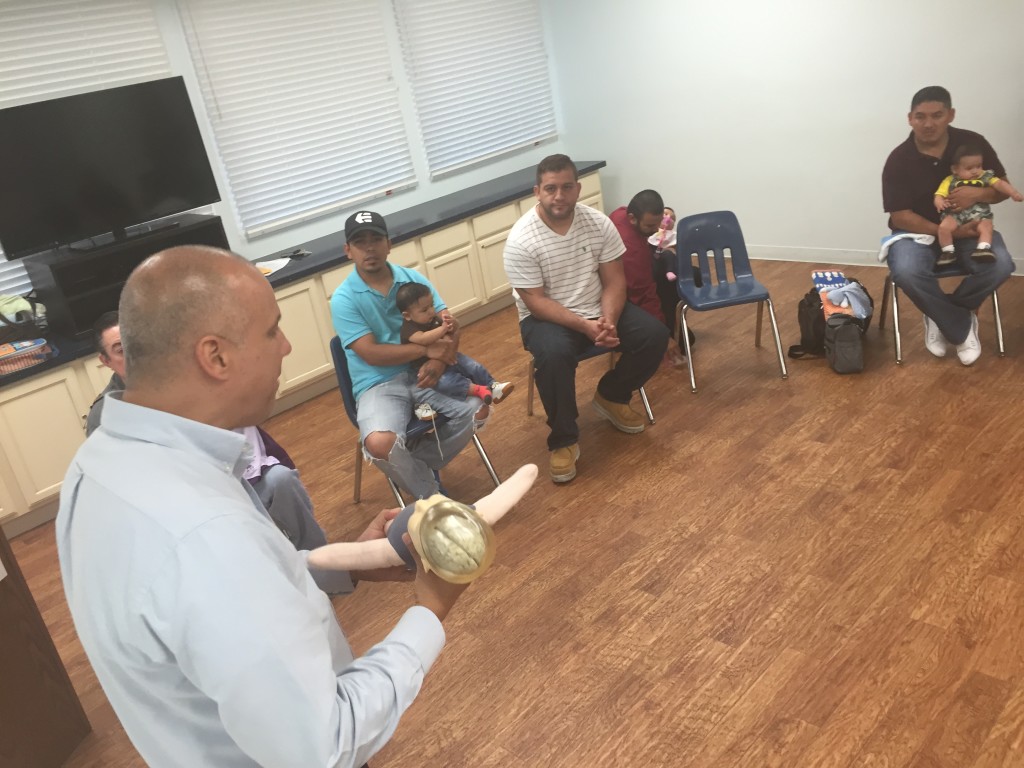 Most importantly expectant and new dads can talk about their feelings, fear and victories that come with being a dad.
Interview with the teacher of the Workshop for Dads, Juan Diego, Director of Health Education at MOMS Orange County.
How did you start teaching the class?
When my wife was pregnant I wanted to learn how to be a good father. I didn't have a father and I feel like it is very important. I wanted to change that for my kids. I'm a normal father, but just the best father I can be day to day. Every time I come here and teach, as a father, I also learn something. Every time. I can share my experience with these fathers.
Do you think most of the dads that come here didn't have a good role model?
No, I think probably 90 percent of them didn't have a dad or maybe not an emotional connection with their father.
Do you think the men come on their own or do their wives make them come at first?
In the Latino culture it is hard to convince dads to be more involved. But we want to change that. Many dads want to change. That is why they come to the workshop. I always tell them, "you know what, the mom, the dad and the baby, you're a team. If you don't work as a team it will be harder."
Do you have trouble sometime getting dads to open up and talk?
Sometimes they are here but they're not 100 percent sure why they are here. They may look at me at the beginning of the workshop with an angry face. But after the workshop is over many men come into my office to say 'thank you' or ask me more questions. Some dads come a second or third times.
It's easy for me because I create a connection with them. I'm a part of what happens here.
Enter to Win a Shopping Spree!
Because MOMS Orange County values the role of fathers they would like to reward them with this fun giveaway. Enter to win a $300 gift certificate at Fodada.com.